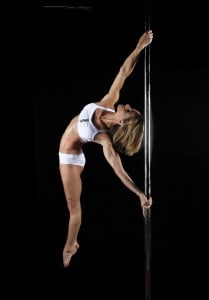 WORKSHOPS
TRICKS & TRANSITIONS
Learn new and challenging pole poses and combos, climb variations, drops and inversions.  This workshop will teach you new and creative ways both into and out of poses and tricks you already know as well as teach you new tricks and poses. This is an intermediate to advanced level workshop.
UPSIDE DOWN ELBOW, CUP & TWISTED
This workshop is for intermediate to advanced students looking to master or add additional variations to their handsprings and ayeshas.  If you are new to handsprings this workshop will help develop a strong foundation and ensure proper body alignment so as to rapidly improve strength and confidence.  For students already comfortable with ayesha and handspring this is an opportunity to discover new ways to transition into and out of these challenging moves.

FLOOR & FLOW
Whether a seasoned pole enthusiast or new to the sport we can all improve our flow and transitions both on the floor and when transitioning between the pole and floor.  This workshop is suitable for all levels and will focus on finding fluidity bothon and off the floor.  Learn how to play to your strengths and find your own personal flow.
POLE CONDITIONING WITH RUBBERBANDITZ
Whether you are brand new to pole or a seasoned veteran conditioning for pole is essential.  This pole conditioning workshop will give you the tools to take your pole skills to the next level.  The key to mastering all the crazy pole tricks and combos on your bucket list is to increase your strength and flexibility by doing regular conditioning exercises.  Once you are able to reach a certain level of strength and flexibility you can do just about any trick or combo that is thrown at you.  In this workshop you will learn conditioning exercises to help you move to that next level in pole.  You'll be shown how to use RubberBanditz resistance bands to assist in training so as to accelerate the time it takes you to attain strength for moves like your handspring and aerial deadlift.  This workshop is essential for all levels of polers from the newbie to the pro.
CABARET & ACRO CHAIR
You will never look at a simple folding chair the same after taking this workshop!  Learn an entire cabaret chair dance that will turn that folding chair into a super sexy prop.  This workshop combines sexy and sultry moves with acrobatic feats to culminate in a sizzling display of your inner diva.  Suitable for all levels.  Long pants or leg warmers are recommended.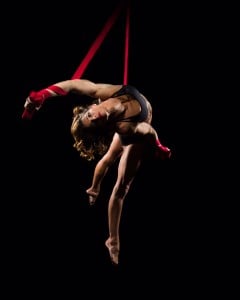 FUNCTIONAL FLEXIBILITY AND CONTORTION
Learn how to take your pole and aerial moves to the next level by safely and effectively increasing your flexibility and functional range of motion.  Whether your goal is to be able to do a rainbow Marchenko some day or simply be able to touch your own toes this workshop will start you on the right path.  The techniques gleaned from this workshop will help build a solid foundation enabling you to progress toward your pole or fitness goals.

INTRO TO AERIAL STRAPS
Learn the basics of aerial straps.  A cross between gymnastics rings and aerial silks, this aerial apparatus will challenge you and push your strength to new heights.  You will learn static poses, spins and balances requiring a combination of strength and or flexibility to master as well as an intro to the coveted roll-ups!
PLEASE EMAIL TO SCHEDULE WORKSHOPS: INFO@ELIZABETHBFIT.COM