Is your shoulder mount struggle bus central or non-existent all together?  Here is a break down of the mechanics and some pointers on how to strengthen and train for your shoulder mount.
Serious about pole and want to level up?  Click HERE for my Pole Conditioning Ebook and start leveling up your pole game!
*Video filmed at SF Pole & Dance*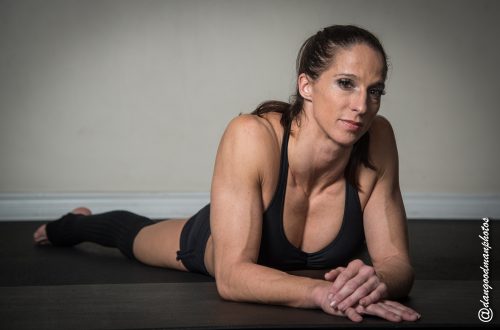 The body and how it works have always fascinated me.  From the time I was a child I wanted to help people.  At 12 I decided I wanted to be a doctor.  I wanted to not only heal people but more importantly I wanted to figure out what caused the ailment in the first place and focus on prevention.  Life is a series of winding and unpredictable choices that don't always lead to the destination we thought we planned for and mine was no exception.  After getting my degree in Kinesiology with an emphasis on Biomechanics I put my career plans on hold for marriage and kids but over the years I felt the old me slipping away.  What was supposed to be a one year break from my career goal path turned into a decade.  I was slowly morphing into a person that I didn't recognize and losing the adventurous, and passionate person I had been.  My career goals started slipping farther and farther away.  Like a frog in boiling water I didn't see the gradual changes over the years until I woke up one day and realized that I didn't know this person that I had become.  I was an active mom, always on the go and had taken up trail running when my kids were babies.  I ran a few marathons and an ultra-marathon but I needed something more dynamic in my life.  When my second child was a baby I started taking karate.  I would take my boys with me when I would go to class, they would play on the side-lines.  The passion of my childhood years began to awaken again.  During this time I had started working towards my medical career goals again.  I had taken more than five years off since my degree and now had to retake my core science classes to be eligible again to apply to grad school.  With my children in mind and wanting to still have ample time for them I had shifted my career goals from being a doctor to pursuing a career as a nurse practitioner.  Martial arts was my hobby as I juggled motherhood, school and work and as I moved up the ranks in American Kenpo I was drawn to competitive fighting.  I loved the challenge of it, the strategy, and analysis of your opponents body movements. I would study my movements and analyze how to maximize my power, reach and speed all the while assessing my opponents movement patterns, their ticks and tells. Turns out my body wasn't made for impact sports and the martial arts took it's toll on me with multiple shoulder dislocations, one major shoulder surgical repair, an ankle dislocation as well as a few broken ribs and other minor dislocations and breaks. But that didn't slow me down much.  As a brown belt I started fighting competitively on the National Black Belt League and was third Nationally my first year. After a grueling test for my black belt I started my second year of fighting competitively but this time as a Black Belt.  As the competitive season neared the final Nationals fight I was rated number one on the Pacific Coast and had earned a seat to fight for the National title.  Once again my life took an unpredictable turn.  While sparring in what was supposed to be a light contact studio run match the man I was fighting with lost his temper and kicked me across the studio.  As I flew through the air and heard the snap I knew I wouldn't be making it to Nationals. 
After a full knee reconstruction that included the removal of my meniscus, ACL reconstruction and a portion of my tibial tendon removed along with a slice of my knee cap I was on bedrest for four months.  Prior to my knee injury I had been accepted to a Nurse Practitioner program.  I was politely informed by the school that my time off removed me from the list but that I could reapply in two years when they accepted more applicants.  The doctors told me that if I continued to run or fight competitively I would be looking at a total knee replacement in five years.  I felt lost.  I needed movement in my life, something that would light that fire in me again.  I had taken a pole dancing class years ago with a friend for fun and had gone back a few times after but nothing serious.  The thought occurred to me that pole dancing was non-impact and I could try that until my knee healed enough that I would be ready to go back to fighting again.  I never imagined that it would be the doorway to a new passion and career.  I started with pole and dabbled in aerial hoop and silks for the first few years. Pole gave me wings, I found a passion that I was afraid I would never see again after my knee injury.  Pole could be anything I wanted it to be depending on my mood and music.  If the music compelled me I could dance around the pole, pirouetting and spinning or ascend and descend the pole adding a whole new level of dynamic movement than I had experienced with martial arts. Pole was always my favorite apparatus until a friend of mine, Jason Lam, introduced me to aerial straps.  It was love at first sight.  I loved the potential to move on any axis imaginable, the contrast of power and grace all rolled into one apparatus.  Straps defy gravity and mystify the mind.   I have a very analytical mind.  I look at the body like a mechanical life form, consisting of a series of kinetic chains, levers and pulleys.  When something doesn't work I take a step back and look at where the break in the kinetic chain is occurring.  I find the most mechanically efficient way to make a move or series of moves to work.  Aerial dance awoke something unforeseeable inside of me.  It appealed to the analytical, nerdy side of me while bringing out an artistic depth and desire to lose myself in the music unleashing my mind, body and soul.  When I look back at my childhood and what compelled me towards the medical field I see my fascination with the human body and how it works and I see my affinity for helping people.  I have found my niche in this world in sharing my passion for movement and the aerial arts and helping people learn how their bodies work and discovering the depths of their abilities.